?

?

?

Ladakh: A world of rugged beauty and spiritual wonder

?

?
Latest at RARE: Ladakh Sarai
Announcing Ladakh Sarai: A great link to the RARE itinerary in the Trans Himalayas.
The idyllic Ayu, surrounded by the towering Stok Kangri mountains, is the setting for an escape, perfect for winding down after exploring the rest of Ladakh. A short drive from Leh, on the Ayu Road, is Ladakh Sarai – a blissful combination of chalets, family chalets, mud huts and Yurts if you are feeling adventurous.

Ladakh Sarai has multiple dining options - Chansa, the main restaurant serving multi-cuisine specialties and Gyatso serving Tibetan, Ladakhi and Pan Asian cuisine out under apricot and apple trees. Gyatso now has a fabulous bar too, for those who love to end their journey on a high, you couldn't choose a better place to celebrate your Ladakh trip!

Relax with yoga amidst the mountains, go for a leisurely bike ride along the village roads around Ladakh Sarai or pick up a recipe or two to carry back home!
Summer in the Trans-Himalayas!
I lost more than a few hundred breaths and revived easily with camphor pouches at The Grand Dragon Ladakh, in the good part of Leh town from where peaks of Stok Kangri are an ensuite view at all times. Centrally heated and solar-powered, The Grand Dragon is one of the few hotels that employs and trains an all-Ladakhi team for excellent service quality. The warm and colourful restaurant serves cuisines from around the world with fresh cookies and bread from their in-house bakery. Don't forget to order their Thukpa (noodle soup), the best in town.
Driving down to Nurla aided my acclimatisation, a couple of thousand feet lower, driving along the Indus and its reluctant confluence with Zanskar passing Basgo, Nimmu, Mangyu along the way; to spend an afternoon at The Apricot Tree.
Just over an hour, it is good to begin your journey here or stop if driving up from Srinagar. Hikes, walks and excursions to Lamayuru, Mulbek, Likir, Alchi and Domkar for Petroglyphs are recommendations from the owner host, Tsering Wangchuk who regales you with stories of the region he grew up in. Lined up along the river's edge, with apricot trees that promise iridescent blossoms in spring, the charm of The Apricot Tree is in its simplicity, views and its engaging team – an interesting mix of locals and people from other regions in the Himalayas.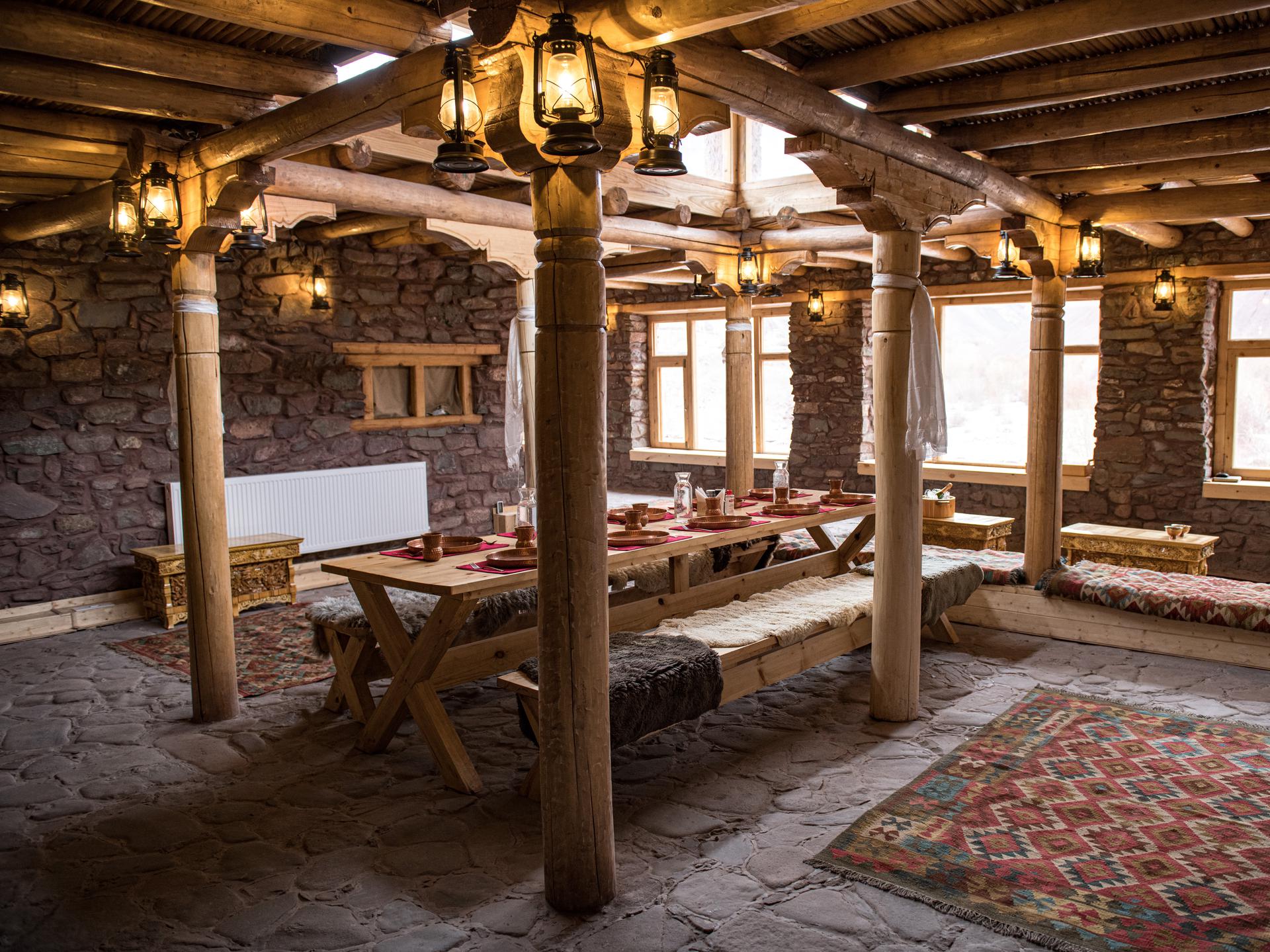 The LUNGM?R Remote Camp is less than 40 minutes from Leh and having left early I caught the sun shining on the gently rising high mountains gleaming a dulcet red, the reason for the camp's moniker meaning the 'red valley'. Rigzin is the operations manager at LUNGM?R and time spent with her was an insight into the life of the young growing up in remoteness. Fun and full of information I was enthralled about her early life, her joys and challenges growing up in a remote village in Ladakh.
Designed as a remote bush camp style experience, the camp is set on a low cliff that shows off a full 240 degrees around the valley with the Sumdoh village on one side and the towering hills all around, a seasonal stream below inundated with local scrubs, every season paints them in unlikely colours. Open for summer, the camp has 4 Predator suites, with heating and ensuite bathrooms comprising the upper floor of the Sumdoh Serai, all of them with large picture windows to catch the sun and views. You are invited to be the exclusive guest here, with dedicated trackers and hiking guides and chefs who curate a summer experience for you. The LUNGM?R Remote Camp sets you out on an iconic journey not only to seek wildlife of the region but also to experience ancient cultures, the region's living history and behold spectacular landscapes. The Predator Suites will be open throughout the year, to allow summer travellers the exclusivity of a remote bush camp, access to the wilderness around, and be close to the Hemis Monastery, ideal to witness the Hemis festival in July.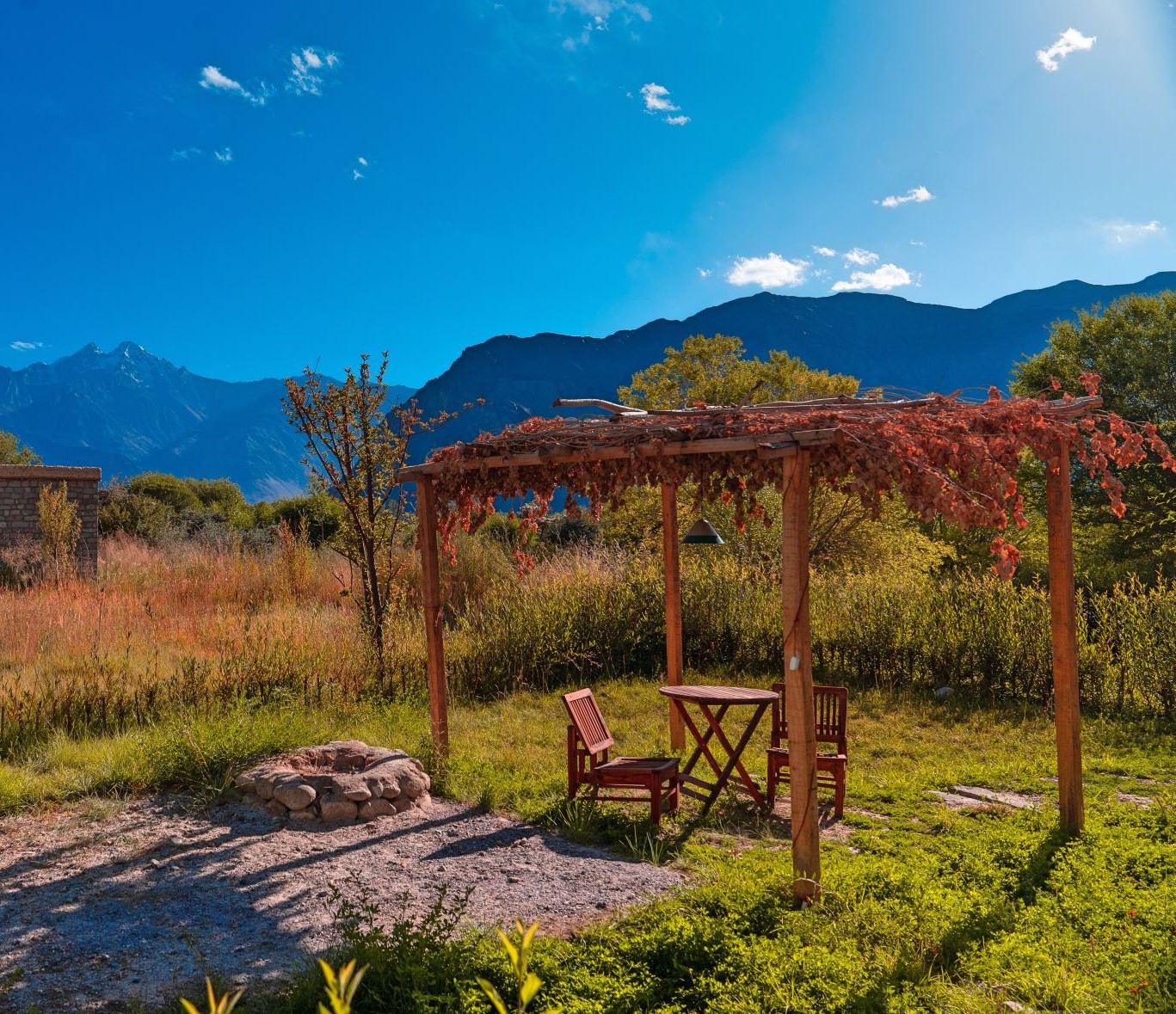 Nubra was my next stop – a quick, monotonous drive upto Khardungla, your lungs will appreciate this height once you completely descend into Nubra valley. Here, among trees of apricot, willow, elm and poplar, among 25 wild acres of scrubby thyme and other wild scrubs stands Lchang Nang - A House of Trees that revers all – from the tall and the earnest poplar to the twisted elms, trees that have weathered the bitterly cold winters of the valley and many a searing summer sun.
At Lchang Nang every tree is called out and introduced even to the least interested passer-by. The cottages, all eighteen of them are named after glaciers, trees, animals that Nubra shelters, and arranged to catch the best sights of the ranges around – the Himalayas, Karakoram and the Soltare that embrace the tiny hamlet and power the Siachen River through feeder streams from slow melting glaciers. Thriving on solar power, the architecture inspired by functional minimalism, and fed by glacial water, Lchang Nang makes the best use of natural resources and strives to make the place community relatable, a few reasons why this is one of our personal favourites. The star of course is Rigzin Kalon, owner and adventurer of Lchang Nang – an engineer, walking with him along the river and to the Ensa monastery was an eye opener – he speaks about hospitality, history and geo-politics with equal ease.
The allure of pure

Pashmina.

The Ladakh Arts and Media Organisation.

An Ethical and Sustainable Fashion House.

Women-Run, Monastery

View Café.
Ideal time to visit: Ladakh eases down after mid-July and is back to being remote and less accessed in the winter. This is a fragile environment and needs to be seen for everything it offers. Stark winters and heady springs in remote locations (even in late summers) allow tourism to be distributed throughout the year. Do look at April, May, September, and October as possible months to experience Ladakh's beauty.
RARE India offers a complete itinerary nudging you into areas to stay in destination hotels and camps where mass tourism is often not welcome.
?
?
?
Hotels that Care. Planet and People First