?

?

?

Satpura - A Magical Wilderness

?

?
?
"Satpura ke Ghane Jungle", a poem by Bhawani Prasad Mishra, that many would remember from our middle school texts possibly describes the beauty of Satpura in its entirety. Listen to Piyush Mehra's fascinating rendition here.

Satpura National Park in Madhya Pradesh will always be special with the advantage of a varied landscape, Tawa reservoir fed by Sonbhadra and Denwa, creating interesting habitats and rocky hills with diverse vegetation dotted with watering holes. Connecting Tadoba, Pench, and Kanha, Satpura has many firsts thanks to the initiatives of the early settlers, one of whom is Reni Pani Jungle Lodge.
The forest experiences in and around Satpura National Park are varied, including walking and canoeing - slow safaris that allow for intimate wildlife engagements. With a focus not just on the tiger, Jehan Numa Wilderness allows a full understanding of the forests, which hinges on the knowledge and articulation of the lodge naturalists. Many early park naturalists were trained by wildlife and conservation experts, which has made a big difference to the quality of the wildlife experience and its interpretation in Satpura.

Satpura Tiger Reserve lies in the north-western part of one of 10 critical bio-diverse regions that have been declared by the World Wildlife Fund (WWF) in India. Known as the Satpura Maikal Landscape or the Central Indian Highlands, this region is home to nearly 17% of the world's wild Tigers, spread across nearly 118,867 sq km.
Tourism influx has resulted in the riverside teeming with a collection of lodges, and Madhai looks like a thriving village. Reni Pani Jungle Lodge, spread over 35 acres in splendid isolation, is a short drive from both Tawa Reservoir and entry to the national park. Bori Safari Lodge, established on the other side of the Tawa Reservoir, complements Reni Pani Jungle Lodge, creating an interesting 5-7 day program focusing on the forest and its biodiversity. Camping, riding, canoeing, boat excursions on the Tawa, hiking, and jungle safaris are various ways to explore the Satpura's generous forests.
Tales from the Bush - A Peek into the World of Satpura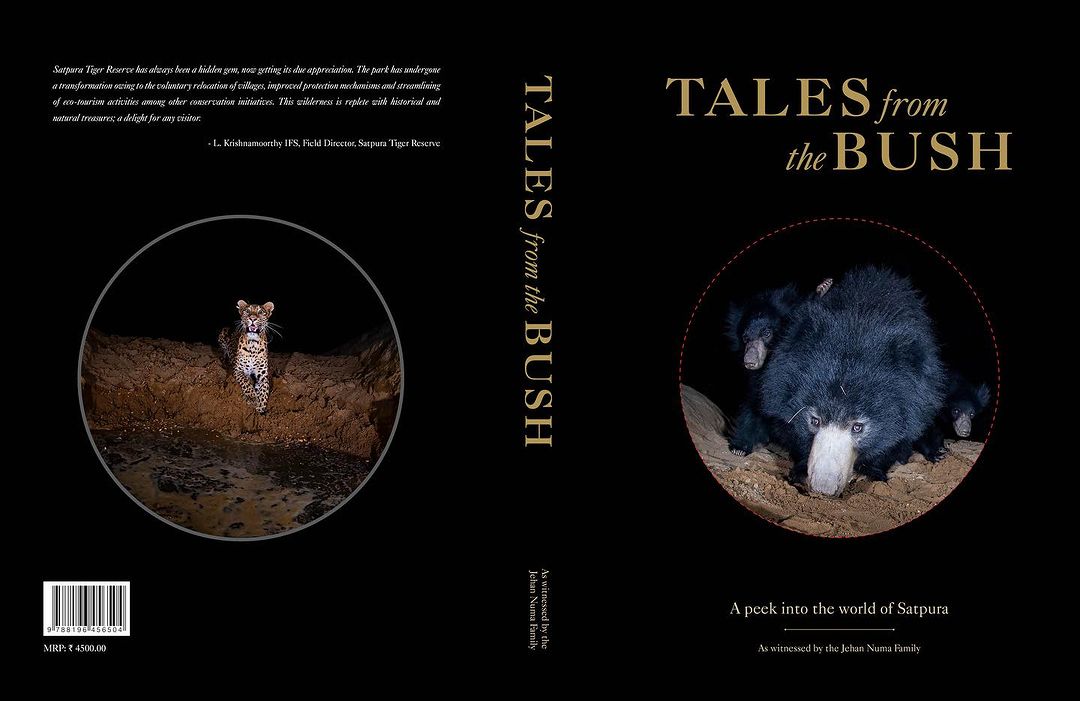 "This book is a record of that journey and the splendours of Satpura Tiger Reserve. Infact it goes far beyond the confines of tourism in its scope and spread as it explores and celebrates the aesthetic and biological richness of Satpura as our in valuable heritage."
Dr. H. S. Pabla IFS (Retd.)
Former Chief Wild Life Warden
Madhya Pradesh.

Tales from the Bush - A Peek into the World of Satpura is an amalgamation of stories, anecdotes and wildlife encounters as witnessed by the Jehan Numa family over a decade and a half of experiencing Satpura. Jehan Numa's story in Satpura started in 2009 with Reni Pani Jungle Lodge and has continued to date with the addition of Bori Safari Lodge.

The book encompasses contributions from the in-house field team led by Aly Rashid, lodge guests, and some expert contributors, including Shivang Mehta, Pradip Krishen, Surya Ramachandran, David Raju and Sarosh Lodhi. Some interesting insights have been put forth by the expert contributors who have had their own trysts with this magical wilderness.

The book features never-seen-before visuals of Satpura and a very interesting chapter called "Satpura After Dark", where SLR camera traps have captured the elusive nocturnal wildlife that lives outside the protected area. The book was launched to a warm reception by wildlife enthusiasts at the recently concluded Nature In Focus Festival in Bengaluru. Satpura.
| | |
| --- | --- |
| | Wildlife and the wilderness have been a passion for Aly Rashid, inspiring him to set up and run Reni Pani Jungle Lodge and Bori Safari Lodge under the family-owned Jehan Numa Wilderness. A trained naturalist and ornithologist, his deep involvement with Satpura has moved him to protect and conserve wildlife in this region. This is evident with the work he has put in here - camera trap studies just outside the national park area, mitigating the possibility of human-wild conflict, wildlife awareness programs at local schools, participating in the wildlife census studies at the Reserve and constantly taking up the cause of conservation and finding solutions. |
?
In a regular world, be RARE!
?
?
Hotels that Care. Planet and People First