?
In a regular world, be RARE!
Experience travel in a whole new dimension, where every moment is a potential for transformation, and every encounter is an opportunity to dive deep into the heart of a destination. In a community of owner run hotels, every journey is a personal experience that promises to touch all your senses through visual and performing art, culture, cuisine, history, heritage and nature.
Ema Datshi from Bhutan
Culinary Musings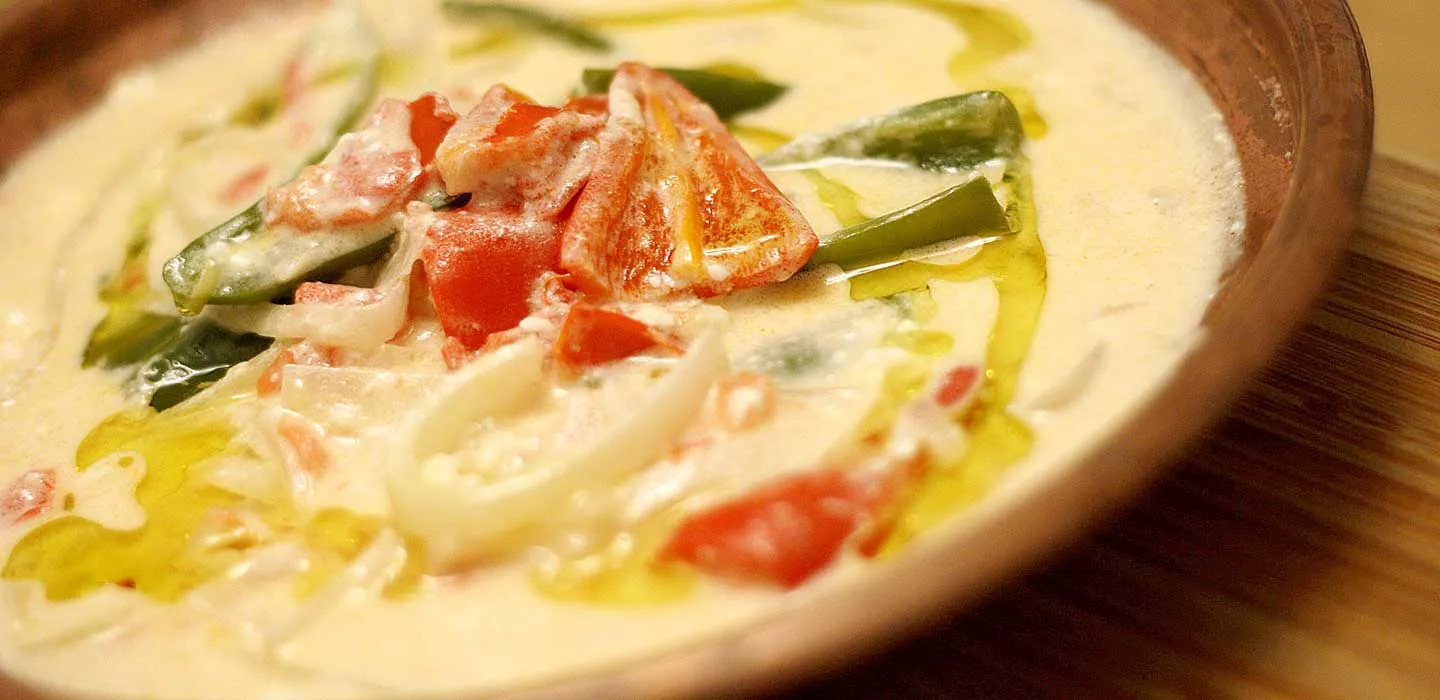 In the serene land of Bhutan, culinary traditions come alive with a dish that embodies both simplicity and boldness - Ema Datshi. This iconic Bhutanese delicacy is not just a meal; it's a cultural experience that tantalizes taste buds and leaves a lasting impression on all who savor it.
At its core, Ema Datshi is a cheese and chili dish, but its complexity lies in the way these simple ingredients blend together. The star of the show is the local Bhutanese cheese, often handmade with love and care. Generously infused with fiery chili peppers, the dish takes on a vibrant hue, reflecting the adventurous spirit of Bhutanese cuisine.
Beyond its tantalizing taste, Ema Datshi also serves as a symbol of Bhutanese identity. It embodies the spirit of resilience and resourcefulness, where simple ingredients come together to create a dish that is cherished by locals and admired by visitors.
We give you Ema Datshi from the land of the Thunder Dragon! Try out the national dish of Bhutan at Zhiwa Ling Heritage's Gawa Restaurant.
?
Lahe Looms
Weaving threads of timeless heritage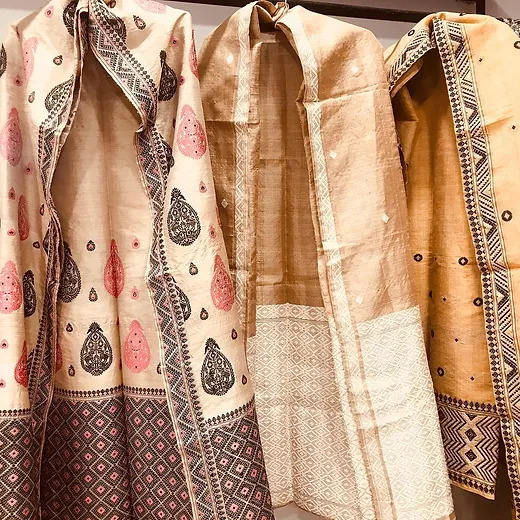 In the heartland of Assam, a region renowned for its rich culture, the art of handloom weaving thrives as a living testament to the ingenuity and creativity of its people. Among the custodians of this cherished heritage stands Jahnabi Phookan, a dedicated patron and advocate of Assam's textile traditions. With a passionate commitment to preserving and promoting the age-old craft of handloom weaving, Jahnabi Phookan's journey is one that weaves together the threads of tradition and innovation.
Lahe Looms is a tribute to the artisans and weavers who have passed down their craft through generations. At the heart of this endeavour lies the profound respect for the ancient wisdom and artistic finesse that infuses each fabric with a story of its own.
The weavers of Assam breathe life into vibrant Muga silk, elegant Eri silk, and exquisite Pat silk, transforming them into opulent fabrics cherished worldwide. Muga silk, often referred to as the "golden thread," shimmers like liquid gold, while the luxurious Eri silk embraces wearers with a delicate touch. Pat silk, known for its intricately woven motifs, captivates with its timeless elegance.
Beyond the splendour of the textiles themselves, Lahe Looms upholds its commitment to sustainability and fair-trade practices. By empowering the weavers and supporting their families, the venture fosters a sense of pride and economic independence within the community.
Indulge in indigenous textiles while on board ABN Charaidew II, with its interiors draped in elegant silks from Lahe Looms. Another recommendation is to visit the official store in Guwahati as well as an immersive tour in the village that weave these tapestries of heritage.
Rediscover Yourself with Yoga
Spiritual & Active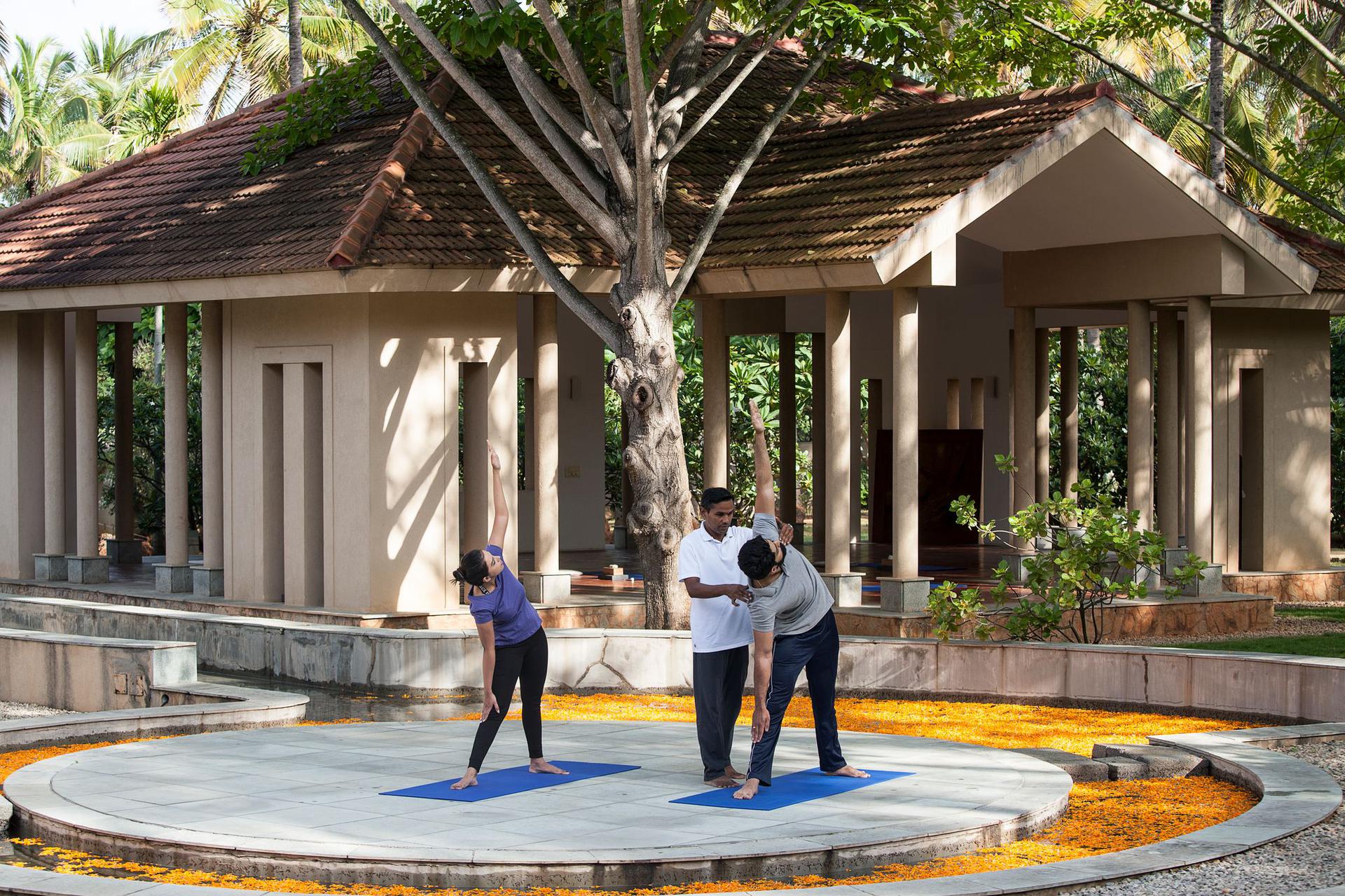 Escape to a serene oasis of tranquillity at Shreyas Yoga Retreat, where yoga becomes a journey of self-discovery, rejuvenation and personal transformation.

Nestled amidst gardens and farms in nature's embrace, Shreyas is a haven for practitioners of all levels. Here, experienced instructors and a warm community create an atmosphere that feels like home.

Immerse yourself in daily yoga sessions, where each posture and breath draws you closer to inner harmony. Whether you're a beginner or a seasoned practitioner, the tailored classes cater to your individual needs.

Beyond yoga, Ayurvedic spa treatments, soul-nourishing organic cuisine, and mindful meditation walks complete your quest for wellbeing. Shreyas Retreat has also curated rare immersions for guests to work in their organic farm as well as visit local orphanage and school to engage meaningfully in the spirit of a joy of giving Every moment at Shreyas is an opportunity to recharge your body, mind, and soul.

Rediscover the essence of yoga and aim for calm, clarity, and balance at Shreyas Yoga Retreat, your sanctuary for self-care and reset.
A Case Study in Responsible Hospitality
Tiger Mountain Pokhara Lodge, Nepal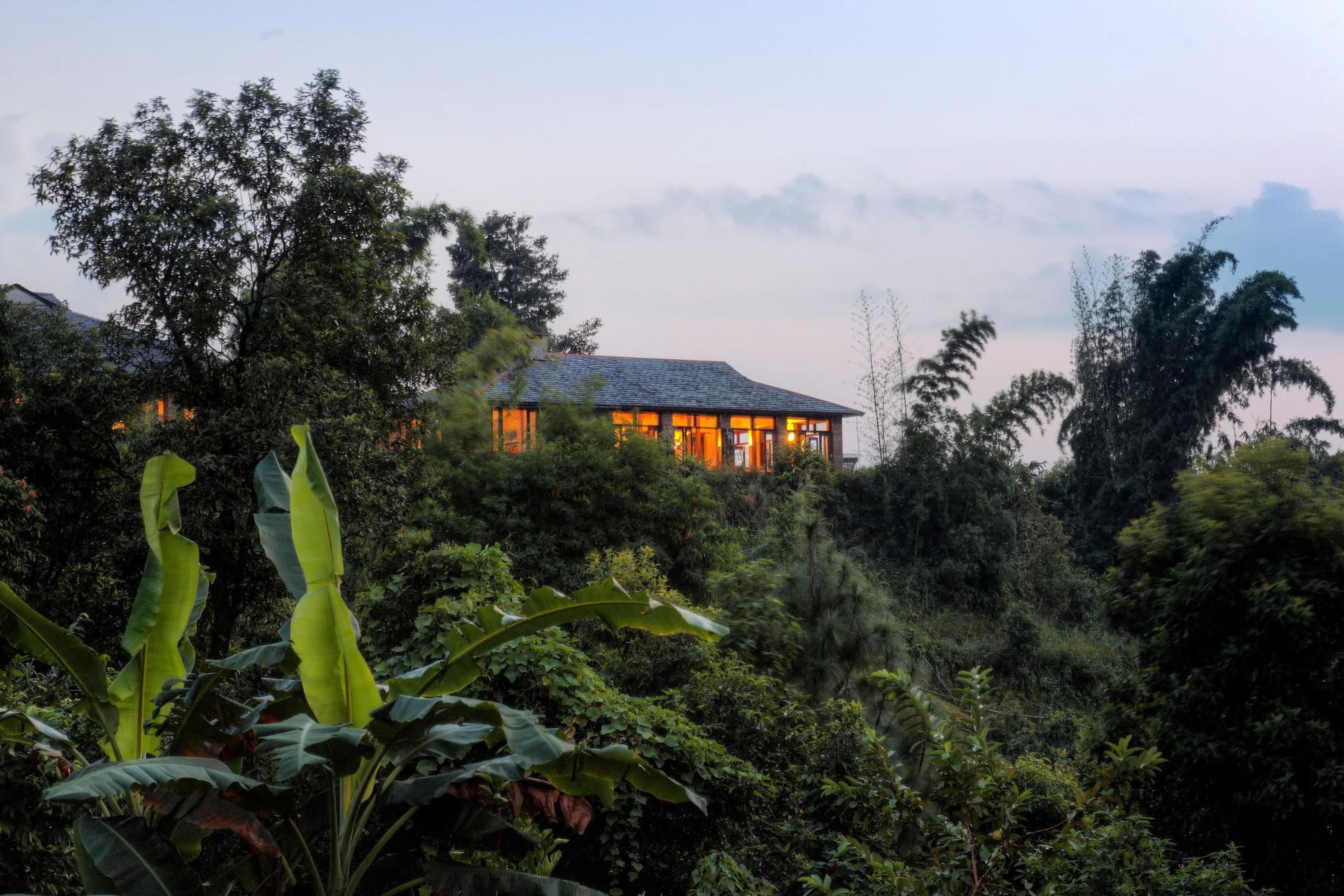 Tiger Mountain Pokhara Lodge was founded in 1998 by Tiger Tops and Mountain Travel Nepal, pioneers of wildlife, trekking and adventure tourism in the sub-continent. The current owners are managing director Marcus Cotton, a keen conservationist and Lisa Choegyal, writer, sustainable tourism expert and long-term resident of Nepal. Together, their passionate commitment to both impeccable hospitality and responsible eco-standards has created a unique and award-winning haven for guests who want to experience the beauty and culture of Nepali mountain environment. In addition to their sustainability initiatives, Tiger Mountain Pokhara Lodge also has strong local community engagement partnerships led by dedicated longstanding employees which work to improve local conditions, focusing on livelihoods, health, education and climate change.


Note: The last version of this newsletter carried misinformation about Tiger Mountain Pokhara Lodge. We deeply regret this. We request all our readers to disregard the information provided in the last version.
Finding Our Inner Eco-Warrior
Waste and Conscious Living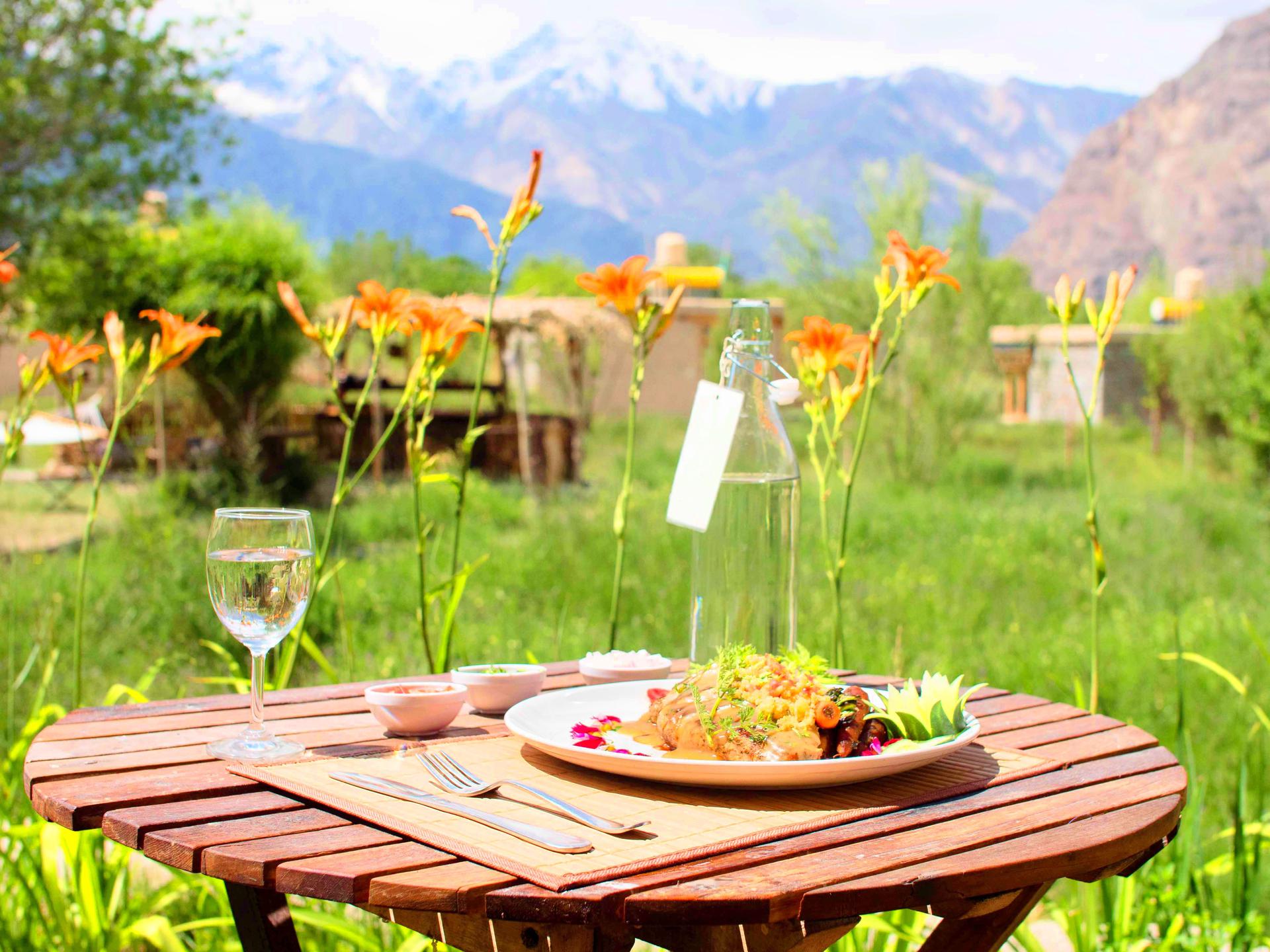 In a world drowning in a sea of plastic and reeling under the climate crisis, it is indeed a case study that a group of trailblazers in the hospitality industry can bring about transformative change with their collective action, demonstrating that the industry can work towards being a part of the solutions to the many perils we face today. With unwavering dedication, our partners at RARE India have embraced the No Single-Use Plastic Touchstone, elevating sustainable practices to a personal journey reflected in their day to day operations. By meticulously weaving together the threads of environmental responsibility, innovation, and social impact, partner hotels of RARE India have emerged as a community that is seen as a transformative force in the travel industry.

As a proud signatory at the UNWTO's Global Tourism Plastics Initiative, RARE India as a business has pledged its commitment to combat the plastic crisis that plagues our planet. Our endeavours are not mere gestures, but a testament to the power of collective action and the capacity for change. With every step we take as a unified community, we redefine the landscape of responsible tourism, shaping a future where responsible tourism may one day be the way we run the travel business.

Each one of us in the industry has to ask ourselves - are we a part of the problem or the solution?
?
?
?
Hotels that Care. Planet and People First